Update on the Garden – October 2020
Update on the Castle Park Arts Centre Garden – October 2020
At the beginning of July, the Arts Centre began preparations for the re-opening of the Centre featuring refreshments in the Courtyard along with daily musical performances.  "Elevenses in the Courtyard" has become a favourite place for people to meet safely and we like to think has provided an opportunity for people to meet in these challenging times.
While we were weeding the courtyard and planting up the tubs and baskets in the main area, it was apparent that the space between the Arts Centre and the Children's Play Area was overgrown and neglected.  An appeal for volunteers to come along and change this went out on social media and was immediately successful.  Over the last 4 months, a remarkable transformation has taken place thanks to the hard work of the volunteers and the generosity of organisations, businesses, and individuals from across the town.  As a result, we now have an extended outdoor area for events and social gatherings once guidelines permit.  In the meantime, we can look forward to a colourful Spring in 2021 whatever the next few months have in store.  The work is ongoing, and we still need contributions either in the form of money or donations of plants and gardening materials.  And of course, additional volunteers are always welcome, Wednesday and Saturday mornings from 10 till 12.  You even get great background music from 11 onwards!
Here are examples what confronted us in July; the Arts Centre was barely visible from the Park and large trees were being strangled by Ivy.  With hard work and advice from the Royal Horticultural Society, we can now display the trees to their best advantage and the Centre has been properly integrated into the larger Park and is readily accessible.
Bulbs, perennial plants  and young shrubs have already been planted, but there is still much to be done and we must make sure that what has been achieved is properly maintained.
I'll finish by thanking those that have so far provided support both in terms of money, plants and above all their free time.
Specifically, The Women's Institute, Members of Frodsham Rotary Club, Jenny Penny and the Frodsham Chiropody Clinic as well as donations from volunteers and their families.  We're not looking for large sums, so all donations of whatever size are welcome.  We have plans to create raised beds for children to try growing vegetables and flowers and for some hard landscaping to support a bank, so timber products also feature on our shopping list. 
If you want to contribute either with plants or money please get in touch with the Arts Centre on www.castleparkarts.co.uk or phone us on 01928 735832.  Better still come along and enjoy the experience!
Peter Vickery October 2020
---
This might also interest you
About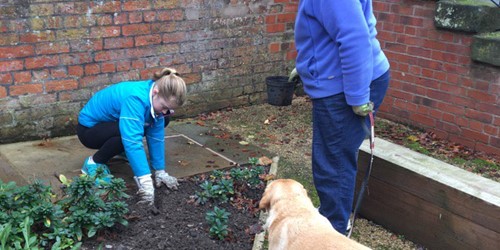 Would you like to be a gardening volunteers?
Would you like to be a gardening volunteer?