Exhibitions
Wednesday 18 September 2019 - Thursday 31 October 2019
George Davies: Country to Coast
This 14 year old artist is inspired by the British Landscape and places he has visited.
This exhibition is a chance for me to show people my experiences through the paintings, some of the places I've been to and the animals I have seen.
From the wilderness of the Scottish isles to the hills of Snowdonia, I am trying to portray what it is about that subject that inspires me to paint it.
There are a series of animal paintings as well as landscapes, as have been working hard to develop my technique in both these areas.
I hope that people will enjoy the paintings of wildlife that perhaps they don't always notice is around us, and appreciate the stunning array of animals close to home, along with the environments they inhabit.
I am thrilled to be having my first solo exhibition at Castle Park.
---
---
Contributing Artists
Artists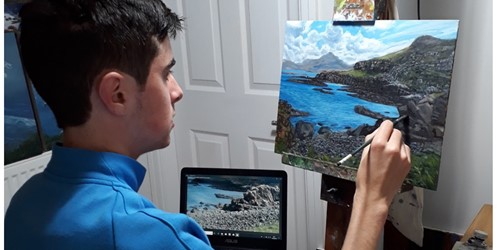 George Davies