Exhibitions
Tuesday 07 August 2018 - Sunday 16 September 2018
Melt
Within this diverse exhibition of Jennifer Barker's glass work, she depicts some of the main passions in her life that have inspired her kiln formed glass art. 
These include the rolling landscapes of Cheshire, North Wales and Cumbria, with their incredibly varied terrains that she has enjoyed whilst walking her dog Max. 
Flowers and animals have also been a lifetime love of Jennifer's.  She endeavours to capture the gestural movements that embody the romance and emotion of nature.  The glass is fused together at temperatures exceeding 800 degrees Celcius and is often fired 2 or 3 times to create depth and perspective within the layers.
---
---
Contributing Artists
Artists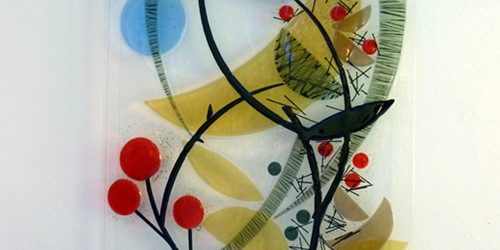 Jennifer Barker