Artists
Diane Moore
About
Diane Moore - Textile Artist
Hi I'm Diane, a textile artist and creator of beautiful handmade textile art products made from all things fabric, fibre, paper and stitch.
And all made locally in Liverpool
When I'm not at my sewing machine or hand embellishing, painting and sketching or dyeing fabric….. you will often find me in art galleries, libraries and exploring nature.
Always looking for more inspiration!
My love for mixed media textiles was born out of a love for texture, pattern and shape and a frustration at not being able to create that purely in paint.
I hope you like my creations – and if you've made a purchase, well thank you and enjoy!
Textile Creations by Diane
07796 887409   contact@textilecreationsbydiane.co.uk
www.textilecreationsbydiane.co.uk 
www.facebook.com – textilecreationsbydiane
---
Artwork
---
This might also interest you
Workshops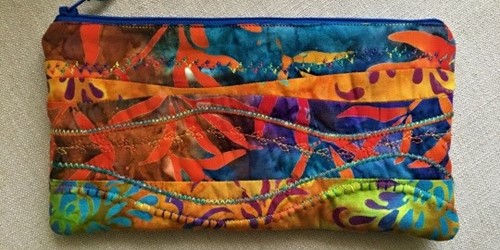 Textile Creations by Diane
Make a quilted and lined zipped pouch