Artists
Jim Symon
About
BEYOND LANDSCAPE
My artwork is a visual expression of my mountaineering experiences sometimes realistically and other times in a more abstract fashion. My aim is to depict the climbing world from a very personal perspective and hopefully present the viewer with an insight into the wonders and dangers of the mountain environment.
In this exhibition I hope to share with the viewer the feelings I experience in the landscape: freedom, enjoyment, fear and being taken away from the daily stresses of work, bills, etc. What it is like to be deeply involved mentally and physically in an environment that demands total focus to enjoy safely and to feel the rough textures of rock or feel the cold isolation of ice, snow and experience the pure beauty of wilderness and see the wildlife in the untamed world.  
The natural properties of clay enable me to recreate the textures of rock, while paint and print allow me to express the feeling of the environment, the elements and the atmosphere surrounding the mountaineer. In a world of Covid-19 and isolation I feel it is more important than ever that we can experience the landscape or go beyond landscape in our own mind and senses, to remember what it is like to be free.
I am happy to accept commissions, for more information contact me via jim.symon@hotmail.co.uk
I am a member of 'Clipped In', which is a group of artist's who share a love of the outdoors and climbing.  You can see more of my work on our website: www.clipped-in.org
---
Artwork
---
Artwork appeared in
Exhibitions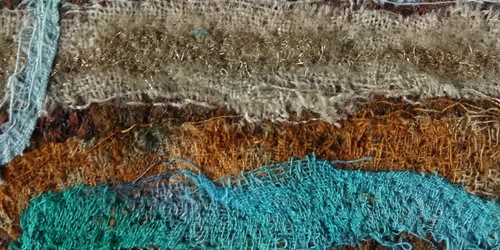 Beyond Landscape by Clipped In