Artists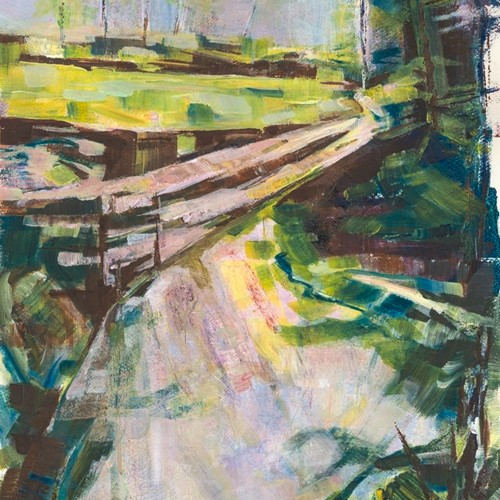 Sue Hancell
About
'Landscapes and Light' – Sue Hancell'
What bewitches me? 
Definitely light! The fabulous trickery that light plays on our wonderful British landscape. Dawn, dusk and the fleeting shadows that create lattices of shapes around us, often take my breath away. 
Most of my inspiration comes through my love of walking, then striving to draw and make paintings in response to the awesome beauty of the countryside I walk in.
Painting for me is relaxing, thrilling, fascinating, and frustrating (usually all at the same time!)
A bit about me 
My passion for using paint and mixed media started this time four years ago, having used mainly pencil and pen before.
I have been a primary school teacher for 46 years and still try to do as much art and poetry with the children as I can. When I am not teaching, I paint and I think about painting as I go to sleep and wake up. I guess that's an obsession.
I am blessed by living only five minutes away from the Castle Park Arts centre and I paint and draw here in different classes three days a week.  I share time in Unit 4, otherwise known as 'A Creative Space' in the courtyard here, where I have benefited enormously from sharing time and thoughts with other artists, who have helped me to grow in confidence.
I am keen to keep on growing and learning and to this end I have attended many workshops including; residential courses with Howard Coles at Tan y Blwch, Ffestiniog,  Hashim Akhib and Robert Dutton at the Sandpiper studio on the Wirral, and with Alison Hargreaves a Poynton artist. Each workshop has helped me to move forward, extend my skills, and deepen my experience in the use of paint.
I am also regular at the Saturday morning life drawing classes in Castle Park Arts Centre in Frodsham, where, under the expert tutelage of Roland Brandon, I enjoy the ever-constant challenge of drawing from observation.
I hope you enjoy looking at my paintings and welcome your comments in my book.
---
Artwork
---
Artwork appeared in
Exhibitions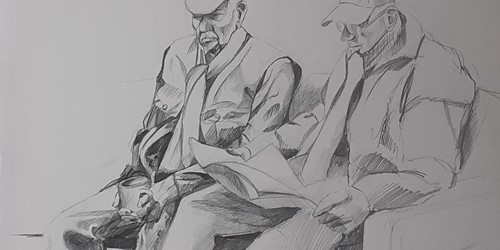 Interpretations, Landscape and Figure
Exhibitions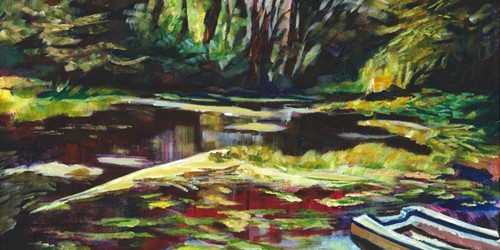 Landscapes and Light – Sue Hancell