Artists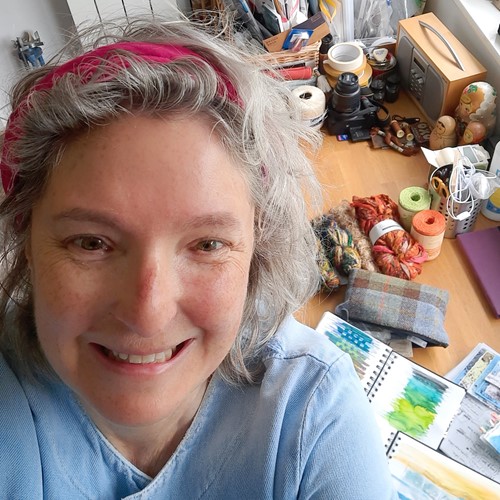 Sue Marsden
About
Beyond Landscape
As an artist working in mixed media I am most interested in texture, surface, colour and mark-making. The work shown in this exhibition explores all these areas. I use a wide variety of materials and techniques to demonstrate my investigations. Walking and exploring the rural landscape in the immediate vicinity to my home over the past few months has inspired me.
The pieces of textile art displayed here include weaving, felt-making, fabric manipulation and stitched paper collage, with most pieces combining techniques and materials in mixed media.
My inspiration is often the rural landscape of Cheshire, the lakes, mountains and slate quarries of North Wales, coastal areas of Devon, Cornwall and Scottish Islands, hill walking expeditions and travelling abroad. I have relied on my memories of these adventures and on sketchbooks I have used on these trips to help me over the last six months.
I keep a visual diary at all times, recording places and experiences through drawing, collections of found objects and words. I like to experiment with arrangements of pattern, colour, texture, line and shape. The work resulting from my experiments is often abstract in nature. I like to reflect the atmosphere and mood of a place, whether it is a huge open sky, the sea or a small detail in the scene before me.
I studied for my degree in Constructed Textiles: Woven Textiles at Loughborough College of Art and Design. Drawing, painting, weaving and felt-making are at the heart of my practice.
I accept commissions and can be contacted on:
suemarsden62@gmail.com   07891 180712   www.clipped-in.org
Facebook page: Susan Marsden Textile Artist
Instagram: susan_marsden_art
---
Artwork