Artists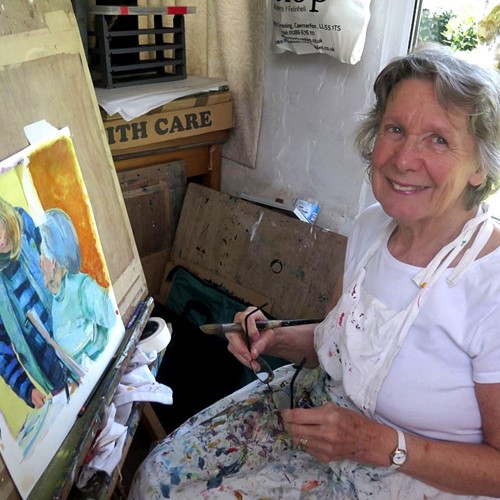 Diane Davies
About
"I was born on the Wirral and trained in 'Ceramics and Printed Textiles' at the Liverpool College of Art."
"After a successful career in Cornwall running my own pottery studio together with designing and creating hand painted silks*, my husband Gareth and I moved to North Wales to live in 1988, where I retrained as a fine artist."
"In recent years access to landscape, which has been the source of inspiration for much of my work, has become increasingly difficult. Over the last couple of years I have gradually turned instead towards drawing people and their relationships, but as yet the project is not well enough resolved to present an exhibition."
"Although a painter, my real love has always been for drawing. A few years ago some of the images I am showing here at Castle Arts Centre were an important part of a one-woman exhibition on Anglesey, but have remained tucked away in a plan chest ever since! This was a body of work that I really wanted to see exhibited again but the opportunity didn't arise. I have selected a favourite few, alongside other recent images, that use woodland and trees as the subject. The strength of trees, their intricacies and their grace both intrigue and challenge me!"
*The Silks were purchased among others by Macy's NY and a member the Royal Family through my membership of the Cornwall Crafts Association.
Over the years Diana has held her own solo exhibitions as well as other family & open exhibitions in Cheshire & North Wales. These include amongst others, The Grosvenor Gallery, Chester; Castle Art Gallery, Frodsham; Oriel Ynys Môn, Anglesey; Ucheldre Arts Centre, Holyhead. 
---
Artwork
---
Artwork appeared in
Exhibitions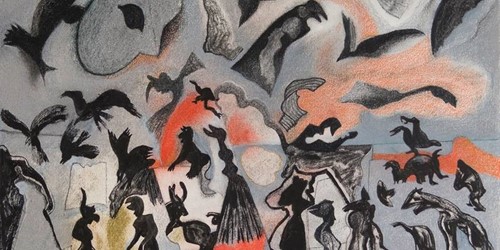 Family Visions