Artists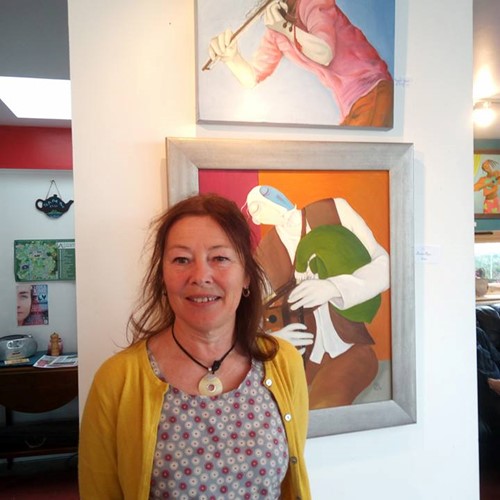 Joanna Powell
About
Joanna Powell is an artist specializing in paintings of folk musicians, living and working at Sunderland Point, Lancashire, which became an artists' colony started by Phillip Gilchrist and fellow artists in 1895.
She studied Fine Art at the Storey Institute, Lancaster before moving to Scotland where she exhibited regularly, and became immersed in the rich musical culture there, both as musician and an artist. Initially she worked as a portrait artist, but developed her unique painting style after sketching fellow musicians.
She has become increasingly interested in collaborations between art and music - sketching musicians during a performance and letting the music they play influence the outcome of the painting. She has taught art for the past 20 years in Scotland and Lancashire. and was artist in residence at The Scottish Storytelling Centre, Edinburgh, during Tradfest 2015, and Maddy Priors Stepping Stones Festival 2015 where she sketched musicians performing. In 2014 she was commissioned to paint Maddy Prior, (Steeleye span) and the following year she was commissioned to paint Rick Kemp, also from Steeleye Span.
Her oils capture the love every musician feels towards their instrument and the magical world they enter when they become "lost" in  music. She is primarily interested in the shapes musicians make, the juxtaposition of shapes when they play together and the space created between them..
Her paintings have been described as "Modigliani meets East European Folk Art"
---
Artwork
---
Artwork appeared in
Exhibitions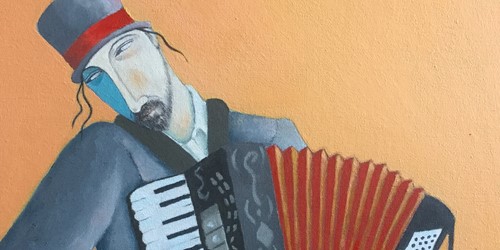 Joanna Powell - Paintings of musicians